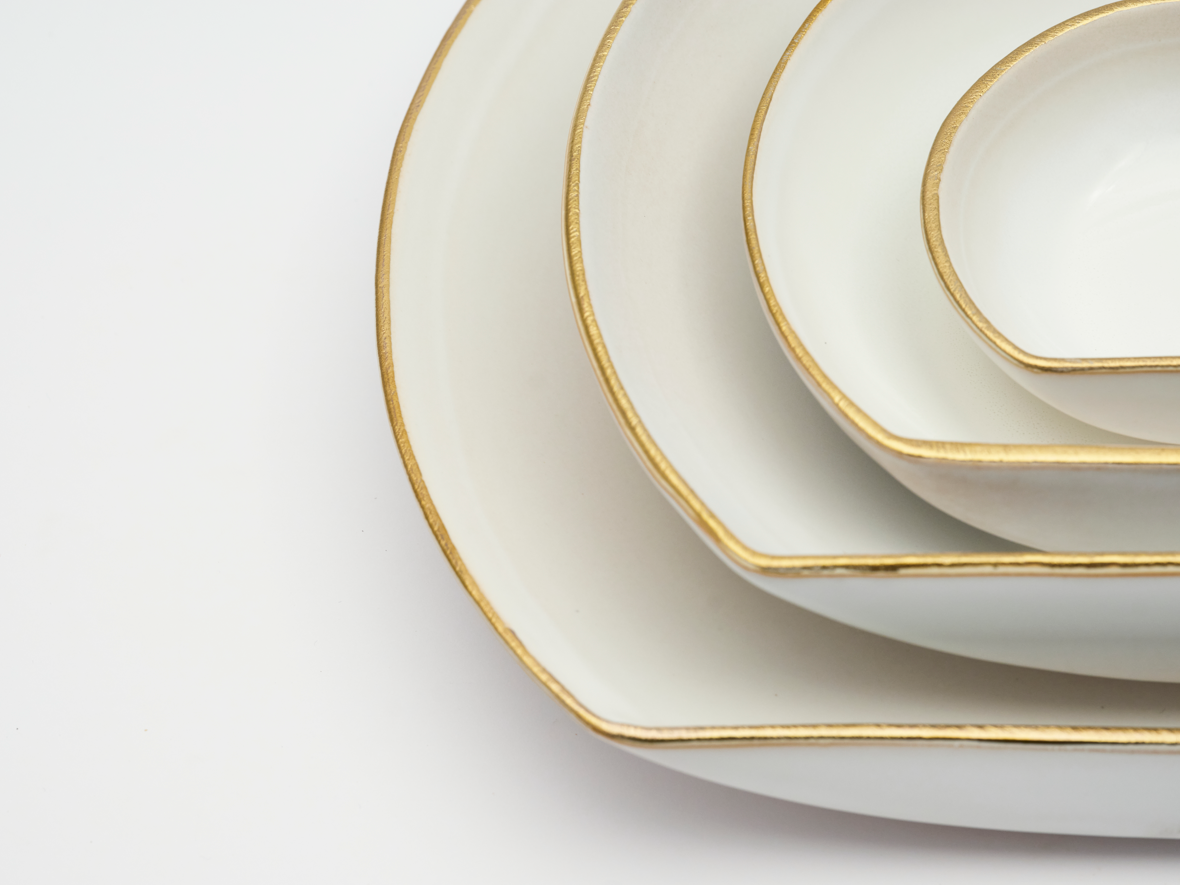 Our Concept
The concept behind our versatile range is straightforward: to simplify mealtimes with the creation of an integrated straight-edge, which in many ways performs the role of a knife. Driven by growing consumer interest, this collection has expanded organically to encompass a diverse array of ceramic sets and accessories, catering to various dining scenarios. These functional design pieces are now offered in a range of sizes, transforming every meal into an effortless and unique experience.
The Backstory
Our Core Values
At Aaron Kearney Design, our core values drive us to create ceramics that combine practicality and design, making dining effortless. We prioritise user-centric design and pioneering aesthetics to set new standards in culinary elegance & functionality, while also focusing on inclusivity and independence. Our goal is to make dining a remarkable experience for everyone. See our core values below...
Enhanced Functionality
Effortless Dining

We prioritise functionality, ensuring that our ceramics simplify mealtimes with a clever straight-edge feature, preventing the frustration of chasing the last bite around the plate or bowl.

User-Centric Approach

Functionality is at the core of our creations. We design with the end user in mind, making sure that our ceramics cater to a wide range of dining needs, whether you're enjoying a casual bite to eat on the sofa, a family dinner during the week, or hosting a get together with friends and family or even a more formal occasion. We have now expanded our range to accommodate a broader range of scenarios.

Practical Elegance

We believe in harmonising functionality with elegance. Our functional design pieces not only enhance the dining experience but are also a starting point of conversation. The range will enable you completely tailor your overall tablescape.
Pioneering Design
Cutting-Edge Aesthetics

Our design philosophy revolves around pushing the boundaries of traditional dining norms. Our ceramics set a new standard with their cutting-edge design, creating a statement piece for your dining table.

Simplicity with Impact

We believe that great design is not just about appearance but also about the impact it has on your dining experience. Aaron Kearney Design combines simplicity with a profound influence on how you enjoy your meals.

Versatility

Our range of ceramics is celebrated for its remarkable versatility. At the heart of our design philosophy lies the straight-edge. A visual language that can be seamlessly integrated across any of our ceramic pieces. Our colours have been carefully curated to compliment food presentation. You may prefer to opt for a more traditional approach with a single glaze colour or inter change with a mix & match approach.
Mobility Empowerment
Enhancing Accessibility

Improving accessibility is one of our primary goals. We are dedicated to creating designs that help stroke victims and individuals with decreased mobility enjoy their meals with greater ease.

Empowering Independence

Our range is dedicated to fostering a sense of independence, ensuring that individuals can enjoy mealtimes with unwavering confidence and a newfound sense of autonomy.

Inclusive Innovation

Our commitment to assistive mobility goes beyond function and design; it's about inclusive innovation. We're driven to make our ceramics a positive force for everyone.